Men Style Icons: How to Dress Like Conor McGregor?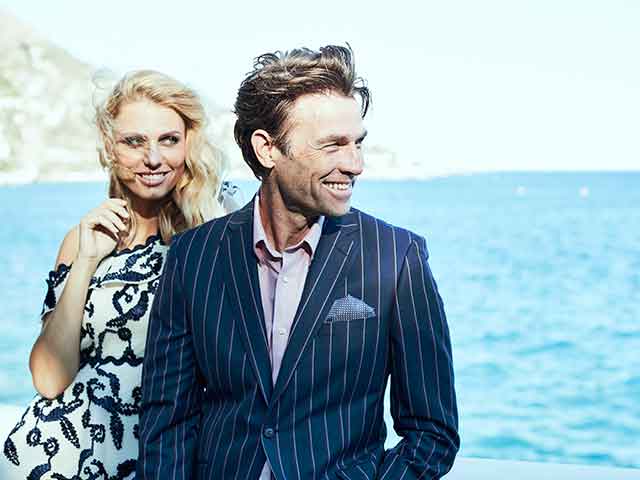 In just a few short years, Conor McGregor has made a name for himself in the UFC (Ultimate Fighting Champion) world. Whether you like him for his fighting ability or you root against him because of his loud, excessive boasting behavior, there's no doubt that this Dublin, Ireland native draws a crowd, both in and outside the ring. Though his fighting abilities may have resulted in his celebrity status, he's kept this position outside the ring with his brilliant sense of style. He's even made headlines for it. In fact, he was ranked as number four on British GQ's list of 50 most stylish people in the world.
What makes up this fabulous sense of style? From pulling off a suit to casual wear, McGregor knows exactly what he's doing. You can to if you follow his fashion lead.
A Little About McGregor
Conor, born Conor Anthony McGregor was both in 1988 on July 14 in Ireland. At 17, he met Tom Egan, a future UFC fighter, and began training in MMA (Mixed Martial Arts.) By the next year, he was making his debut. In 2008, he started working in professional MMA matches as a feathweight fighter. It wasn't until 2013 that he made his UFC debut against Marcus Brimage, which he one with a knockout.
In his personal life, McGregor is in a relationship with long-time girlfriend Dee Devlin. They have one son, Conor Jack McGregor Junior.
Wearing Navy Suits
When it comes to wearing a suit, this UFC fighter knows how to combine sharp tailoring with the right colours.
The first thing you'll notice about any McGregor suit is the waistcoat. Conor rarely wears a suit without one. While a waistcoat is not a critical item when it comes to wearing suits, it can be an important one. Waistcoats contour to fit your body and also provide an extra layer of warmth. They add an extra bit of sophistication as well, turning your two-piece suit into a three-piece that would be acceptable in any office.
When choosing a waistcoat, stick to neutral or match your suit as much as possible with both the colour, pattern and fabric. Navy is an excellent suit colour to start with, and McGregor wears this colour all of the time. Pair it with a white dress shirt if you're looking for a business-friendly example. For other events, take a chance. Navy is a hue that easily goes with many different colours. If you're more adventurous, consider a light pink, blue, green or orange shirt.
Instead of traditional black shoes, consider changing things up and wearing brown with your navy suit. Stick to formal shoes, like brogues, for the best look. Finish off the entire look with a pocket square in the same colour as your shirt.
Wearing Grey Suits
If you'd like to wear your suits to more occasions than just to the office, consider purchasing a grey suit. Here are just a few rules on making sure your grey suit looks as brilliant as Conor's.
Visit the tailor to make sure the men's suit fits correctly.
Choose a suit style that is timeless. Avoid the trends- they'll be gone before you wear the suit twice.
Grey works with so many colours. Experiment when it comes to shirts, ties and pocket squares.
Go for black formal shoes with this type of men's suit.
Wearing a Check Suit
Occasionally, you just have to do something different. That's why you should always have a suit in your wardrobe that you love but don't necessarily wear every day. For Conor, it's the check suit. A lover of colour and patterns, he enjoys wearing his check suit on occasion.
Since you wear this suit sparingly, use this chance to really experiment with colours and patterns. Find out what you like, what appeals to your sense of personal style. Remember to accessorize as well.
Conor McGregor's Casual Wear
Conor wears casual clothing on a regular basis, both for events and in everyday life. When it comes to T-shirts and pullovers, he typically wears a V neck. While you may not look like McGregor, that doesn't mean you can't dress like he does. Choosing casual shirts and knitwear in neutral colours (black, white, grey and sometimes blue) and pairing them with different tweed jackets, suit jackets and trousers can help you develop your own casual look.
The same thing applies to your polo shirts during the summer. Pair them with some chinos for a smart edge or keep it completely casual with a pair of jeans. Neutral colours mean that you can mix and match the shirts with many different parts of your wardrobe.
The Shoes
While many of us consider our shoes as simply an add-on that we would rather not think about, they are an important part of Conor's style. In fact, he invests quite a bit of money into his shoes. While you might not have the salary of a UFC champion, that doesn't mean you can't invest in the right shoes yourself. All you need are the three basics: oxfords, brogues and chukka boots. These three will get you through both formal and casual events in your life. Stick to browns and blacks for these boots, however, and over over-the-top colours. This will make it easier for you to incorporate them into your already-existing wardrobe.
Conor McGregor Style: Steal it For Yourself
If you're looking for the perfect look, Conor McGregor has it. Steal his style and enjoy colourful, stylish suits, classic pieces and fitted menswear. Here are just a few things to remember:
You never know where a colour or a pattern will take you.
Suits should always be fitted, tailored and sharp.
Stick to classic, timeless pieces. Ignore the trends.
Make sure you know when to wear casual and when you shouldn't.
Paying attention to what you wear and letting yourself try new things are the keys to looking and dressing like Conor McGregor. Use these tips to help make it happen.
By Brook Taverner
4 April 2018